LocalBitcoins' Guide to Account Verification
Why is verification needed?
In order to comply with the applicable legal requirements and to meet anti-money laundering and terrorism funding prevention regulations' criteria, LocalBitcoins requires verification to know who its users are. LocalBitcoins' user verification system promotes a safer marketplace for every user by increasing the overall trust and inhibiting the usage of LocalBitcoins' account for illicit purposes. Account verification is also an essential personal security feature, as it allows account recovery in case access is lost for any reason.
In general terms, LocalBitcoins' verification system works progressively, i.e. it requires more detailed verification items according to the user's level of activity in the platform. All LocalBitcoins' account verification data is stored and handled in compliance with the relevant legislation. More details can be found in our Privacy Policy.
How to verify?
Your LocalBitcoins' account verification status can be seen and updated through the Verification tab of your account's settings.
There you will find information on your incoming trade and transaction volume, which is used to calculate your account's Tier level, as well as the list of your completed and (if any) pending verification items per Tier. By clicking the button "Proceed to the next level" in the Verification tab, you are able to submit the required verification items
Account level's description and requirements
LocalBitcoins has 3 account verification Tiers: T1, T2 and T3.
In the vast majority of cases, an account's Tier is determined by its annual incoming trade and transaction volumes, i.e. how much has been credited to an account within the past 12 months including buy trades and received Bitcoin transactions. The next Tier verification is required when incoming trade and transaction volume reaches the current Tier limit. However, an account might be pushed to one of the following Tiers or required to complete additional verification under certain special cases. Accounts that have not completed the required Tier verification cannot use LocalBitcoins' wallet, advertising and trade services.
| | T1 | T2 | T3 |
| --- | --- | --- | --- |
| Full name | ● | ● | ● |
| Country of residence | ● | ● | ● |
| Email address | ● | ● | ● |
| Phone number | ● | ● | ● |
| Physical address check | ● | ● | ● |
| ID verification | ● | ● | ● |
| KYC info | ● | ● | ● |
| Proof of residence | | ● | ● |
| Extra ID verification | | | ● |
Verification progress per Tier
T1
T1 verification is meant for users who intend to buy and/or receive less than 20000 € annually. When verifying for T1, users will be asked to verify their email address and phone number, and provide their full name and country of residence. Additionally, users have to answer a short questionnaire, to inform their address and verify their identity.
When verifying your ID, make sure to use high-resolution and unedited pictures of a valid supported document. The images must be originals, not scanned or pictures of photocopies. Verifying for T1 is an easy and fast process, but some ID verification attempts might fail due to:
Date of birth missing from document
Expired document
Poor image quality
Unsupported document
If you fail ID verification multiple times, please contact support for more detailed instructions. Note that we do not process ID verification manually but our agents can provide directions on how to proceed in each case.
T2
T1 verified users are able to proceed to T2 if they wish to increase their trading limits or if T2 is required by their account's status, e.g. newly registered company account.
After completing T1 verification, users can verify for T2 by replying to a questionnaire and submitting a proof of address.
Documents submitted as proof of address must be legible and preferably written in Latin characters. Documents in Russian, Chinese and Arabic are also accepted. The document must contain a date of issue no older than 3 months, the user's real name and an address matching the account's info. The following documents are generally accepted as proof of address:
Bank statement
Credit card statement
Utility bill (such as gas, water, electricity)
Phone bill (landline)
Tax return
Home internet bill
In case your proof of address has been rejected, please try again to verify making sure that:
The file is PNG, JPG or PDF
The document type is supported
The language and the address format are compatible with the information you provided previously
The document is not older than 3 months.
In some countries, there are distinct requirements for the documents accepted as proof of address, as listed below:
Countries
Supported documents
China
A tax invoice of a utility bill (electricity or water) stamped by local tax bureau and local utility provider.
Ghana
Bank account statement stamped and signed by the bank as a certified (notarized) true copy of the statement.
Kenya
KRA certificate or tax return.
ZUKU (cable TV and internet provider) bill.
KPLC (Kenya Power) Post-pay power bill.
Morocco
Electricity or water bill Landline phone bill Certificate of residence provided by Le Caïdat or the official body governing the place of residency
Namibia
A Bank account statement with a home address signed and stamped by the bank
Nigeria
Bank account statement stamped and signed by the bank as a certified (notarized) true copy of the statement.
Multichoice (DSTV) invoice.
Power bill from Eko Electricity distribution company (EKEDC).
South Africa
Bank account statement
Venezuela
Utility bills.
Bank account statement.
Tax return.
Tax registration card (RIF), the last modified date should not be older than 3 months.
T3
T2 verified users are able to verify for T3 once they reach 100000 € volume or in case the account has a status that falls into special cases.
T3 verification can be completed by passing a liveness test and filling up an additional questionnaire and submitting the required supporting documents. Like ID verification for T1, the liveness test is a hassle-free process but the most common issues reported and their solutions are listed below:
Unsupported device

Make sure you are not using iPhone or iPad devices

Unsupported browser

Use only Chrome or Firefox browsers during the liveness test

Your device does not allow video recording

Make sure your device has a camera and that you have given permission for your device to access the camera and record a video

A browser extension is interfering with the camera

Make sure you have no browser extensions that might block access to the camera on your device
T3 questionnaires are reviewed manually. The application might take some time to be approved and our agents can request further clarification through the verification form. For this reason, we recommend that the application is submitted in a timely manner before your account reaches the T2 limit.
Company verification
You can operate as a company on LocalBitcoins, and provide and receive payments for your trades using your company's payment details. Operating as a company works also well for sole entrepreneurs, for example.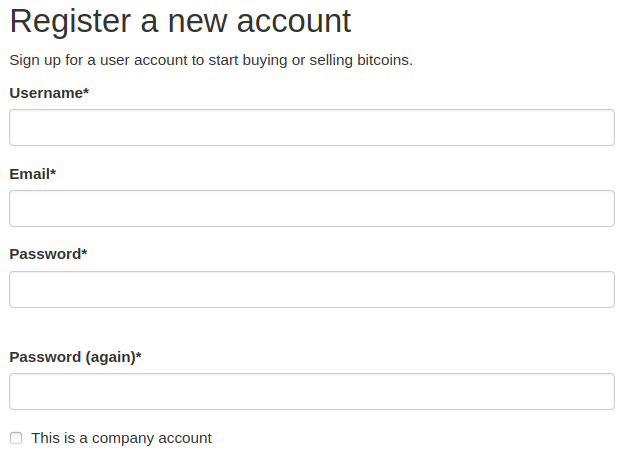 To start trading as a company on LocalBitcoins, you can create a new company account. By creating a new company account, you must provide verification as the owner of the Master company account, i.e. the account operated by the main company representative.
While multiple accounts are forbidden, it is allowed to have a personal and a company account as long as the payments are processed using details compatible with the account verification type, i.e. LocalBitcoins personal account completes payments with a personal account and LocalBitcoins company account sends and receives payments with company details.
If you have a personal account and want to use your company's payment details in trades you can create a new account as a master account for the company, so you will start using 2 accounts after that. This way you have to use only your personal payment details for your first account and only your company payment details for your company account.
Tier A and Tier B verifications
LocalBitcoins has 2 account verification Tiers for the companies: Tier A and Tier B.
Tier A for the start of the account's activity,
Tier B when the annual trading volume reaches 500,000 EUR.
At both levels, the company's representative should fill out the verification application form and provide supporting documents.
The verification process for the Master company account requires T1 and T2 personal verification before the submission of company information and documents for Tier A verification.
This means that you can't proceed with submitting your company's documents before verifying the account as Tier 2. To complete a Master company account verification, your company must belong to your national company register and you must be the person legally responsible for the company or an employee authorized by the company to operate the main account.
For Tier A verification, companies should provide
Descriptive information
Company's registration documents
Information about its beneficial owners
Information about the board of directors of the company (if applicable)
For Tier B verification, companies are being asked further information about the company's activity and financial status:
Last financial statement (it should be provided if it has been prepared according to the national law)
Bank account statement
Auditor's report (if applicable)
Once the application for company verification is submitted, all related information and questions should be sent through the application form itself.
Company sub-accounts
You can create separate accounts for your employees (company sub-accounts) in order for them to operate as the company account through their personal accounts.
Employees can create their own personal accounts, verify them as T1, and then join the company account as a sub-account. When creating a personal account, the employees must remember to check the box next to "This is a company account".
To operate as a company sub-account, your company must have an existing company account. Sub-accounts need to be registered through the company's Master Account.
The volume of a company account is calculated as the sum of the volumes of the Master Account and all its sub-accounts.
Special cases
LocalBitcoins might provide restricted or no service to residents of specific regions due to security and legal reasons. Geographic restrictions are applied according to lists defined by the relevant authorities and might be subject to updates from time to time.
LocalBitcoins is currently unable to provide service to residents of:
Cuba
North Korea
Iran
Syria
The restriction applies to residents of those countries and states, but nationals of non-served countries are able to use LocalBitcoins services if they reside in another country.
In the United States, LocalBitcoins provides service only to residents of:
Illinois
Kansas
Montana
New Hampshire
New Jersey
Pennsylvania
Tennessee
Texas
Virginia
Wisconsin
LocalBitcoins provides service upon the submission of additional verification to residents of:
Afghanistan
Barbados
Burkina Faso
Belarus
Cambodia
Cayman Islands
Haiti
Jamaica
Jordan
Mali
Morocco
Myanmar
Nicaragua
Pakistan
Panama
Philippines
Russian Federation
Senegal
South Sudan
Trinidad and Tobago
Uganda
Vanuatu
Yemen
Zimbabwe
Additionally, LocalBitcoins has an internal risk management system that identifies activities and profiles deemed as high risk from a security and/or legal standpoint.
When an account is flagged by our risk management system, additional verification items might be required in order to activate the account. In exceptional cases, LocalBitcoins might refuse to provide service to accounts that impose too high a risk to the services.